New Workshops Beginning September 2019
---
Beginning in September, Chester's will be hosting various workshops for planting, flower arranging, and more. Workshops will be held the second Tuesday of each month.


Soil & Repotting | Tuesday, Oct. 8 6-7PM
An introduction to soil types and a how-to on how to properly re-pot your houseplants.

A step further than 101, an introduction to soil types (what even is peat moss?) and how to amend soil for various species like succulents, cacti, vines, violets, etc. Then we will go over how to properly re-pot a plant; how to know when is the right time, how big of a pot do you need, etc.

Attendees are encouraged to bring a small/medium-sized house plant for re-potting. Cost of entry covers one (1) terra cotta pot and soil combo for any plant up to 8". If a larger plant or a decorative pot is preferred, a selection is available for purchase.
Tickets available via Eventbrite.
Join our Facebook Event for more info!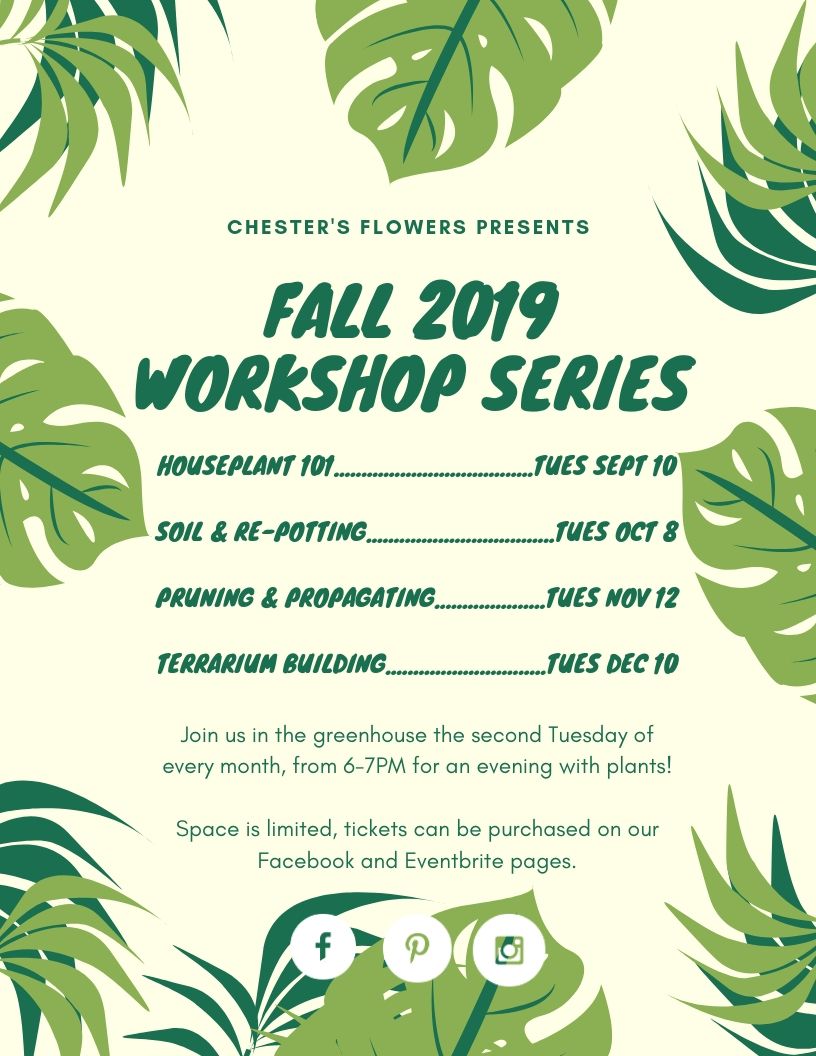 Past Workshops:

Houseplants 101 | Tuesday, Sept. 10th 6-7PM

An introduction to keeping plants in your home

Suitable for beginners, those with a self-prescribed 'black thumb,' intermediate plant owners who have run into specific issues, and even masters who want to refresh or share tips. Basic topics covered will be identifying your plant (name, place of origin, climate), identifying light requirements (demystifying bright indirect light, part shade, etc.), how to water properly, and identifying common mishaps like over watering, common pests, etc. A section of the workshop will be reserved for questions at the end.