Visit Our Greenhouses
---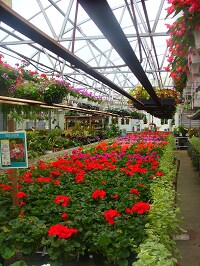 Chester's greenhouses are open all year.. Featured daily are tropical plants in all sizes, from small starter plants, to larger floor plants. We have a great selection of the old favorites like Ficus, Spath, Umbrella trees, Philodendron, Croton, and Dracaena, plus some unique plants like air plants, and many styles of Cactus and Succulents. We also specialize in home made dish gardens – a long lasting customer favorite – and we carry a selection of orchids, and flowering plants such as violets, kalanchoe, begonias, and more.
It's spring planting season in the greenhouses now. Many of your favorite bedding plants are in stock and ready for May planting. We'll have all your old favorites like geraniums, begonias, petunias, marigolds, as well as a great assortment of "Proven Winner" type plants. Wave petunias, grasses, colorful coleus and many others will provide all you need to fill your pots and keep your landscape full of color. We even have a variety of perennials – some for sun and some for shade.
Vegetable plants are also available mid May. Many varieties of tomatoes and peppers, as well as other favorites like broccoli, cukes, zucchini squash, and many more.
Chester's also features pre-planted urns, bowls, and planters – perfect for your porch or deck. If you have planters and want them filled – we do that too. Our greenhouses and courtyard are open weekdays till 5:30 and every Saturday and Sunday during May.
There is always something colorful and interesting in Chester's greenhouses. Stop by soon to see for yourself.